Beaufort Hunt Staff Killing Badgers?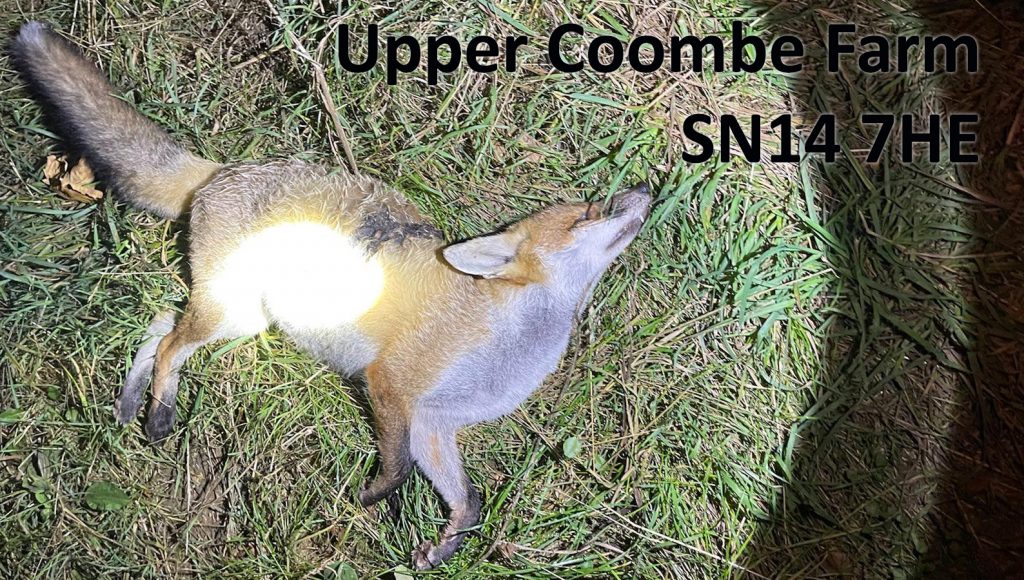 In a scene reminiscent from when pro-hunt scummers targeted Chris Packham's home with a snared dead fox, members of a badger patrol in Wiltshire, were horrified to discover a dead shot fox had been deliberately placed in the entrance to field which was being monitored daily following an incident in which shooters had been stopped from shooting wildlife.
The field in question is owned by the Prior Family, who own Upper Coombe Farm, operating under the name of WP Prior & Sons in Castle Coombe. The farmers are a known cull farm who have been spotted by badger protectors in previous years culling badgers. Farming brothers Ben and John Prior are arable, 'organic' dairy and beef farmers, and Ben has been previously reported in 2008 to be urging the government to consider allowing him to cull badgers on the family's organic farm. John is parish councillor with Castle Coombe Council.
During an earlier cull during 2019, we reported cull shooters operating on the Prior's land were reported to police following an incident after killing a badger, they attacked a vehicle belonging to two badger protectors who were involved in a badger rescue attempt in the neighbouring Manor Hotel, whereby a hotel guest filmed an injured badger with a fenn trap attached to its leg enter into its sett on land belonging to the Manor Hotel's Golf Course. The attack on the badger protectors delayed the rescue attempt, and sadly the badger passed away in one of the sett tunnels having pulled its own leg off underground to free itself from the trap.
Fast forward to September 2021, badger protectors patrolling in the Castle Coombe area heard shots fired coming from the Woodbury Hill Plantation area of Upper Castle Coombe. They witnessed a Silver Truck (Registration DN57 WMO] being driven by someone dressed in Hunt Staff attire, this was hardly surprising given the area is renowned Beaufort Hunt Country and the same day the Beaufort had been out terrorising the wildlife in nearby Foxham. The driver of the silver truck was clearly involved in the shooting, having been caught red handed in the field following the shots being taken.
Badger protectors returned to the field the following evening this time the shooters had brought along with them a pair of grunting terrier boys on an illegal quad. The quad was photographed and forwarded onto Wiltshire Police – as it was clearly unregistered on the public road (an offence under the Road Traffic Act) and was being driven illegally with a passenger. It's worth noting that at no point in either incident, despite firearms being used and terrier boys driving illegally, did any police ever attend.
Determined to ensure that no more wildlife was killed on Prior's land, badger protectors were visiting the area nightly. On Sunday, they returned late at night, to be met with a grizzly scene in which a dead shot fox had been deliberately place in the entrance to Prior's field presumably as a warning or threat for the badger protectors. The fox had clearly been shot with a rifle a day or two beforehand, it had an entry wound but no exit. The wound itself was poor placement, and the poor fox would likely have suffered before death. We can't fathom what sort of a man or men would inflict suffering on an innocent animal in this way, and then to use the poor animals dead body in this way. But then we aren't dealing with fully rounded human beings are we. Why not contact the landowners and ask them if they are aware their cull contractors are behaving like this on their land.