FFS! DERBYSHIRE DEATH DEALERS AND BODY BIN PHONE NUMBERS EXPOSED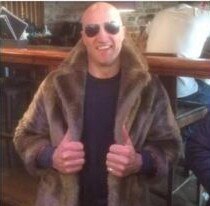 Over the last week Derbyshire Against the Cull have exposed 13 body bin sites. Badgers have been stored at these sites for almost the last five weeks of killing across the county and collected by a vehicle belonging to Flanders Fallen Stock.
FFS won the contract to collect dead badgers last year and are still at it for a second year running. This year however, they've used a vehicle, which was posted on their Facebook page. Oops.
FFS and owner Mark Flanders have suspiciously taken all their social media accounts down this year, but their details are now in the public domain for you to enjoy. Despite FFS having a base in Coalville, Leicestershire, Mark Flanders lives in Leek and stores many of the company vehicles close to his house, the registered address for FFS, much to his neighbours dismay.
One vehicle (reg YK65 LHC) parked in Leek is the van which was filmed collecting dead badgers in Derbyshire last year, parked on the road near a school and Mark's house.
Below, you can also find a handy map detailing the locations of body bins in Derbyshire and their mobile numbers. Imagine you are a badger, trapped in a cage, wondering how you got there and whose fault it was. Now imagine you're sat at home with a phone and a list of numbers for those responsible.

Zoom out to see them all.