500,000 fewer game birds available from British game farms.
This Easter Bank Holiday has seen another large release from Heath Hatcheries in Suffolk, 9,000 birds were released, this is on top of 5,000 released from other farms last month. A total now of 14,000 birds.
If the ratio of males to females was 1:8, then 12,250 are female. They will lay 50-60 eggs over the spring/summer season. That's 612,000-735,000 eggs. If we choose a midway figure that is 673,500 eggs. A game farmer would usually expect to hatch 75% of those eggs.
That's a total of 505,125 birds that would have been raised and then released onto shooting estates. When people ask if the release of birds from game farms is going to have an impact on the local environment, well yes of course it will, but it is nowhere near the impact that their offspring would have, should they have been produced.
Another question frequently asked on social media is;
How many will survive? The answer to that is simply "very few".
The game shooting industry has to keep releasing 30-50 million birds a year into the UK  because game birds don't live for a very long time in the wild, it's also why game keepers kill every predator they come across to try and keep the numbers of available birds to be shot as high as possible.
This article from the pro shooting organisation GWCT, shows that only 16% of pheasants released on shoots make it to the 1st of February, at that point the shooting season ends and food in feeders is no longer topped up, the birds face the rest of winter without food or water.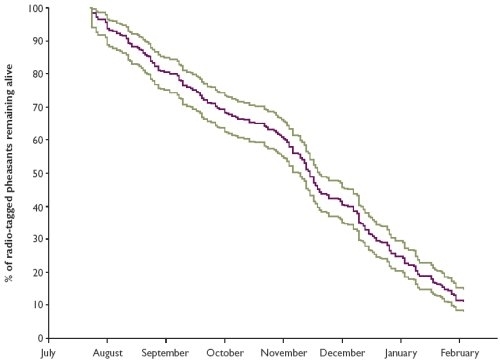 It's also worth bearing in mind that shoots place orders with game farms many many months before purchase, Heath Hatcheries in an expose in 2015 were said to supply "to shoots all over the country". Imagine if you were one of those shoots relying on thousands of poults to arrive in a few weeks time, you'd now be facing ruin unless you could purchase birds from somewhere else.
The more game farms that are hit, the far greater chance there is of large numbers of shoots going out of business.
Releasing birds from game farms is currently NOT the only method of shutting down hundreds of shoots and preventing birds from being born into the industry. There is also the importation of "hatching eggs" and live chicks into the U.K. from France. Eurotunnel is the last remaining transporter of live chicks, however the vast majority of birds come in as hatching eggs (over 9million in 2015 and we suspect now over 10 million). Please do contact Eurotunnel, DFDS and Brittany Ferries and ask them to take the lead of P&O who no longer transport chicks or hatching eggs. Details here.
Animal rights activists freed 9,000 pheasants during a raid on a Suffolk game farm as part of a campaign to "dismantle the shooting industry farm by farm, shoot by shoot".
Members of the Animal Liberation Front (ALF) who attacked Heath Hatcheries in Mildenhall said that their aim was to put shoots out of business.
The Times revealed on Saturday how millions of day-old game bird chicks were being sent from French battery farms on Eurotunnel trains to bolster British shooting estates after ferry companies refused to carry the birds.
About half of the 30 million pheasants and six million partridges reared on British game farms are imported as day-old chicks or hatching eggs from Europe, according to the Department for Environment, Food and Rural Affairs. Eurotunnel is the last remaining company transporting day-old game bird chicks from France to the UK.
An ALF spokesman said of the raid on Friday night: "A clear path was made so that the birds headed towards the forest and away from the road. Grain was put down to attract them in that direction. We surveyed the 45 breeding pens for pheasants then removed a panel from each one of these pens, herded the pheasants out into the corridor then further on and out of the farm directly into a wooded area. Each pen contained around 200 birds, making the total around 9,000.
"Shoots put in orders to game farms well in advance each year before the shooting season begins. With game farms being targeted across the country many shoots may well go out of business this year. We will continue to dismantle the shooting industry farm by farm, shoot by shoot, until the end."
Activists have turned their attention to sporting estates in recent months. About 5,000 pheasants were released in two night raids last month in Cornwall and Wiltshire. Stop the Cull, a badger protection group, has also turned its attention to shooting estates, and released an online map showing game farm locations.
The Countryside Alliance, the pro-hunting campaign group, called the protest "mindless vandalism". Tim Bonner, its chief executive, said: "This latest attack is completely unacceptable. By releasing birds without making provision for them to adapt to the wild many of them will die as a result of these thoughtless and ignorant acts.
"Rural businesses and livelihoods have enough challenges to contend with without having to deal with intimidation and potential attacks from extremists. Game farmers should not have to live in fear so we advise farmers to increase their security.
"These attacks must be investigated and the perpetrators brought to justice. This is nothing but mindless vandalism and cruelty dressed up as a political statement."
Large numbers of the estimated 35 million game birds in the UK are bred on factory farms in conditions that have been banned for chickens. They are released throughout the summer to get them ready for the shooting season, which runs from October to February.
Heath Hatcheries did not respond to requests for comment.
Last month, after the release of birds in Cornwall, a spokesman for the National Farmers' Union said: "People are quite entitled to their views about game shooting, but this absolutely does not excuse criminal damage and vandalism. This farm was going about its perfectly lawful business and the activities of these activists was completely unjustified."
Please check out our previous news item, you'll find a useful map of game farms.
If you'd like to help support us, please consider buying us a cup of coffee for £3
https://ko-fi.com/A0307Y3